Piemonte region ornamental rocks and their use in the field of Cultural Heritage
Rocce ornamentali piemontesi e loro impiego nel campo dei Beni Culturali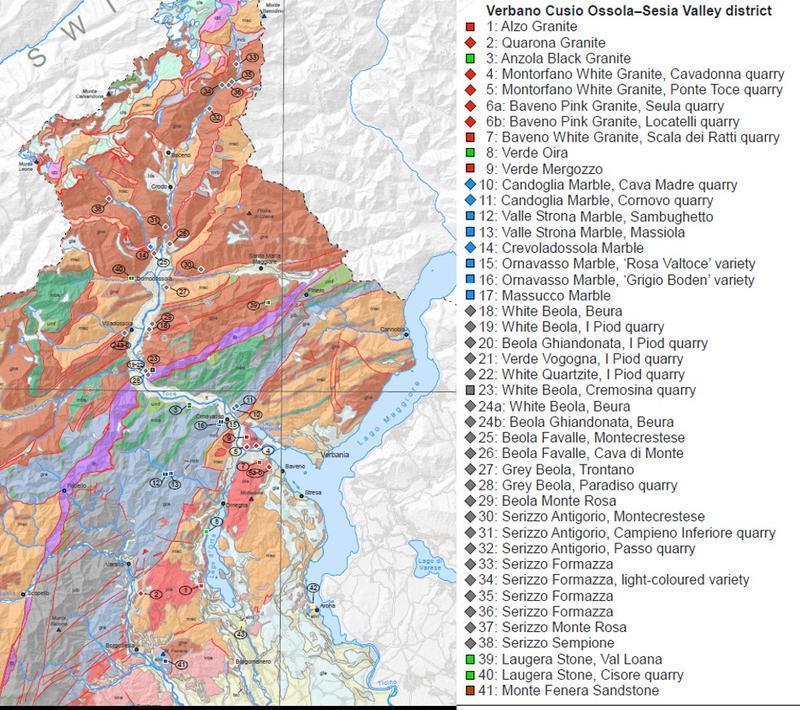 ERC Sectors
PE10_10 - Mineralogy, petrology, igneous petrology, metamorphic petrology
PE10_12 - Sedimentology, soil science, palaeontology, earth evolution
Activity
This research topic is aimed at the census and characterization of the numerous ornamental stones extracted in the Piemonte Region, with particular regard to those coming from the Alpine sector.
This study aims to determine the composition, origin and state of conservation of ornamental stones used in the construction of important historical buildings. In particular, the map of ornamental stones of the Piemonte Region has recently been published, in which the location of the historical and contemporary quarries has been reported, grouped into six main quarry districts.
The forthcoming creation of a complete database on Piemonte rocks used in the most significant historical and contemporary buildings in the city of Torino is expected, consisting of the name of the rock (commercial and scientific), location of the extraction site, geological unit, a list of main uses in buildings and monuments, macroscopic and microscopic description, illustrated by an extensive iconographic set.
As part of the project, the TourinStone application was also created, which represents the development of a mobile device useful for promoting and enhancing ornamental stones and cultural and geological heritage of the city of Torino.
---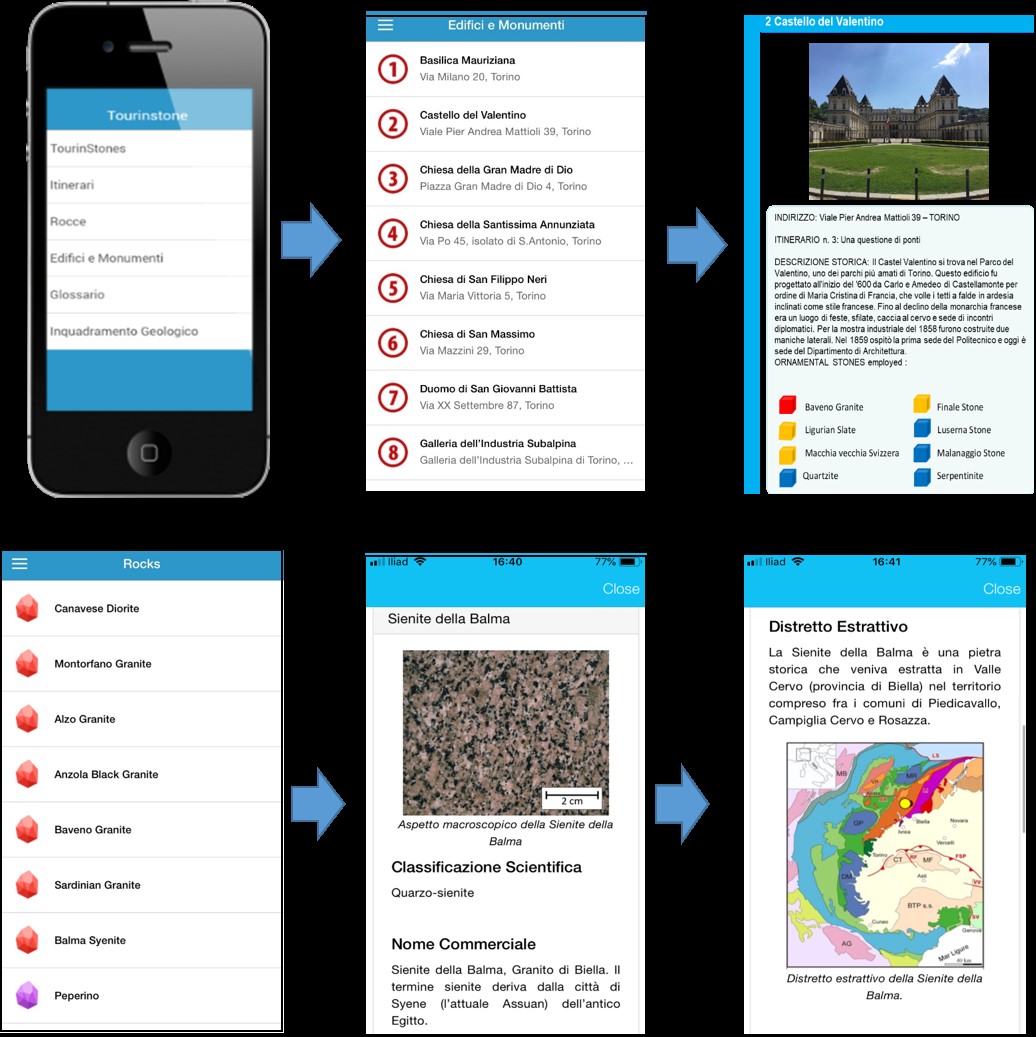 Fig. 1: Flow chart of the TourinStone multimedia application dedicated to visiting the historic center of Torino.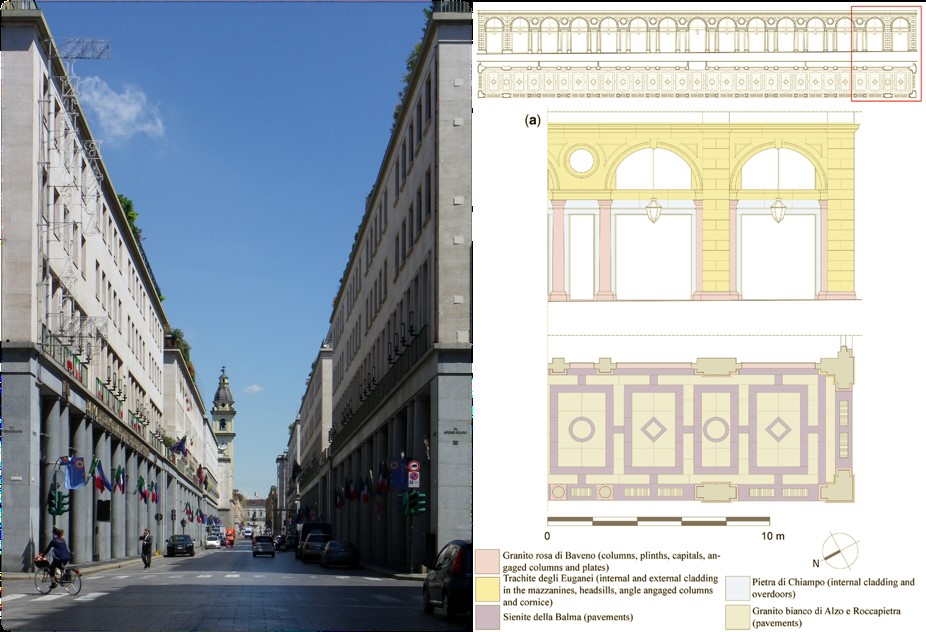 Fig. 2 The stone arcades of Via Roma in Torino and the petro-architectural relief of the San Giovanni Battista block.
.
---
Main collaborations
ARPA Piemonte (Michele Morelli)
C.N.R. Istituto Geoscienze e Georisorse – TORINO (Luca Barale, Fabrizio Piana, Gloria Vaggelli)
Museo Regionale di Scienze Naturali – Regione Piemonte
---
Publications
A. BORGHI, A. D'ATRI, L. MARTIRE, D. CASTELLI, E. COSTA, G. DINO, S.E. FAVERO LONGO, S. FERRANDO, L.M. GALLO, M. GIARDINO, C. GROPPO, R. PIERVITTORI, F. ROLFO, P. ROSSETTI, G. VAGGELLI (2013) Fragments of the Western Alpine chain as historic ornamental stones in Turin (Italy): a new geotouristic approach for the enhancement of urban geological heritage. Geoheritage, 6, 41-55.
V. BERRA, A. BORGHI, A. D'ATRI, G.A. DINO, L.M. GALLO, E. GIACOBINO, L. MARTIRE, G. MASSARO, G. VAGGELLI, C. BERTOK, D. CASTELLI, E. COSTA, S. FERRANDO, C. GROPPO, F. ROLFO. (2013): Stone materials employed for monumental buildings in the historical centre of Turin (NW Italy): architectonical survey and petrographic characterization of Via Roma. Pereira, D., Marker, B. R., Kramar, S., Cooper, B. J. & Schouenborg, B. E. (eds) Global Heritage Stone: Towards International Recognition of Building and Ornamental Stones. Geological Society, London, Special Publications, 407, 201-218
vF. GAMBINO, A. BORGHI, A. D'ATRI, L. MARTIRE, M. CAVALLO, L. APPOLONIA, P. CROVERI (2019) Minero-petrographic characterization of Chianocco Marble employed for Palazzo Madama façade in Turin (NW Italy). Sustainability, 11, (15) 4229
F. GAMBINO, A. BORGHI, A. D'ATRI, L. M. GALLO, L. GHIRALDI, M. GIARDINO, L. MARTIRE, M. PALOMBA, L. PEROTTI (2019) TourinStone: a free mobile application for promoting geological heritage in the city of Torino (NW Italy). Geoheritage, 11, 3-17
L. BARALE, A. BORGHI, A. D'ATRI, F. GAMBINO, F. PIANA (2020) Ornamental Stones of Piemonte (NW Italy): an updated geo-lithological map. Journal of Map, 16, 867-878
Tag: ornamental stones, Piemonte (NW Italy), cultural heritage